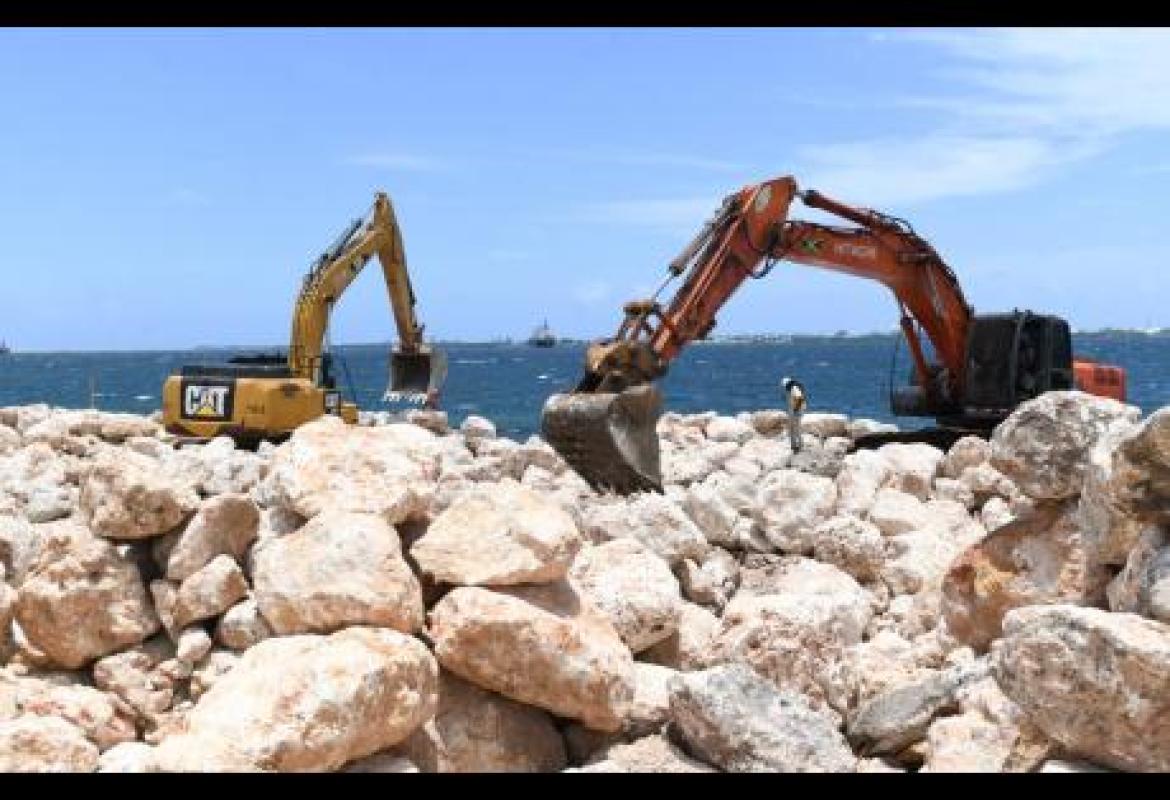 Heavy machinery manoeuvres boulders along the Kingston waterfront in the vicinity of the Rae Town fishing village. A multimillion-dollar shoreline protection wall, or stone guard, is being constructed as a buffer against sea surges.
Click Below for News Source:
Date Published:
Friday, May 29, 2020 - 12:00pm
News Detail:
Kingston's coastline, stretching from Rae Town to the Bank of Jamaica along Port Royal Street, is currently undergoing major restoration, made possible through a US$30-million loan from the World Bank.The loan was provided under the multilateral's Disaster Vulnerability Reduction Project.The Jamaica Social Investment Fund (JSIF) is the lead agency.JSIF Managing Director Omar Sweeney said that the Port Royal Street Coastal Revetment Project alone will cost approximately JMD$950 million. The aim of this and other projects under the programme is to strengthen the country's resilience to natural disasters.Sweeney told The Gleaner that other portions of the loan have enabled the upgrading of fire stations in Montego Bay, St James; Yallahs, St Thomas; and Port Maria, St Mary. It also covers the overhaul of the Earthquake Unit at The University of the West Indies. All the unit's equipment was changed from analogue to digital and new monitoring stations built across the island, which will enhance the monitoring centre's "analysis of earthquake events"."Now we have turned our attention to the coastal vulnerabilities we have. We are doing studies of around eight coastal areas across the country that are vulnerable," said Sweeney.A buffer of boulders is being built to cushion heavy surges."That artery is one that provides an important link from the east to the west. That road provides an important connection point, and it is currently being undermined by wave action," said the JSIF managing director of the stone guard, which is similar to the one along the Palisadoes road leading to the Norman Manley International Airport.Once the road is lifted, a boardwalk with green spaces will be installed."It is tied into the Kingston and St Andrew Municipal Corporation's overall plan for the management and development of Kingston and that it also includes vulnerable communities along the corridor," Sweeeny said.Other coastal areas being targeted by the project are Manchioneal, Portland; Lucea, Hanover; Black River, St Elizabeth; and Hellshire in Portmore, St Catherine.The deadline for implementation of the entire loan is 2023.